EDC Multitool Belt Organizer and Pouch
Product Price
$13.99
Product Review Score
4.61 out of 5 stars
158 reviews
When you order through these links, we may earn a commission at no additional cost to you.
Additional Product Details
🛒【Belt Pouch Multitool Sheath Durable Material 】QEES Tool Pouch With Belt Clip Made with strong scratch resistant nylon fabric for long lasting use.Reinforced stitching and a high-grade magnetic snap mean your sheath will stand up to whatever you throw at it.
🛒【Magnetic Molle Multitool Pouch Dimension 】2.7x2.5x5.4inches,fits heavy duty tools , compatible with surge,MUT, gerber knife,super Tool,EDC flashlight,mini marker pen. Protect your multitool from scratches, scuffs and falls.
🛒【EDC Pouch Multitool Knife Holster】Custom made with belt stopper and double rivets plus belt loop for belt up to 2 inches wide, the multitool holder you can hang, strap, or clip on work belts, web suspenders, pants, etc. Keep your multitool next to you and keep your hands free at all times. A great gifts for men boyfriend husband,valentines day gifts for him,a must have accessory for climbing,camping,cycling,hiking.
🛒【EDC Pocket Organizer Closure Design】Belt Tool Pouch with Strong magnet cover operates quietly compare to self-adhesive and will not deteriorate over time.Magnetic sheath for multitools, also can be used as edc pocket organizer.
🎁【Worthwhile Gift Belt Pouches for Men】What You Get: 1 Pack Nylon knife sheath.knife sheath for belt A decent gift with high quality and classic style practical edc belt sheath, pocket knife holder is the best choice for men,family,father,husband, boyfriend and yourself.Also perfect for Father's day,Christmas,Thanksgiving and birthday.
Our Policies
Secure Checkout

Guaranteed safe & secure

Easy Returns

Fast & easy product returns
More options on eBay...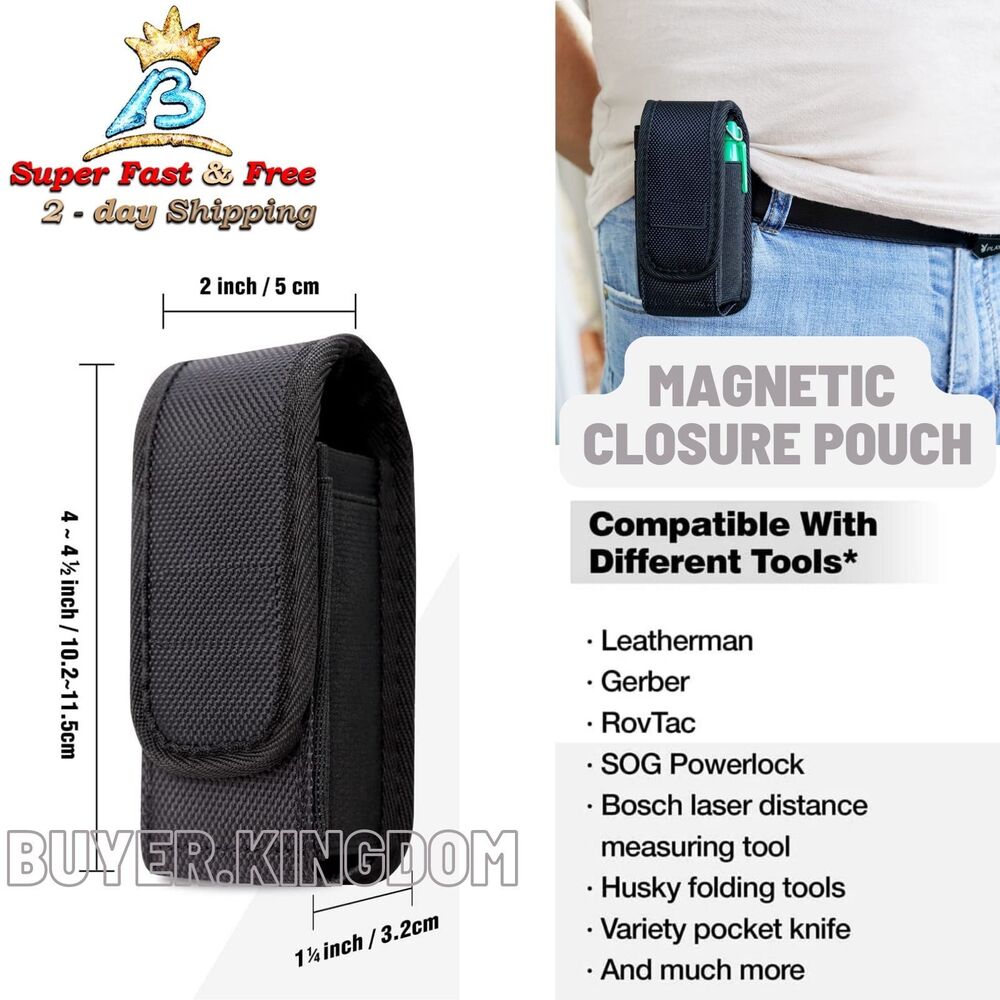 EDC Belt Organizer Multitool Belt Pouch Sheath For Flashlight Holster Leatherman
When you order through these links, we may earn a commission at no additional cost to you.